Due to the school closure, all Viroqua athletic events, home and away, for this evening (1/14) are postponed.
1/14/22 Viroqua Area Schools will be closed today.
1/14/22 Viroqua Area Schools will have a 2 hour delay today.







Please join us for the VHS Choir, Band & Orchestra Concert tonight at 7:30 pm in the HS Gym. You may also watch it at this link.
https://youtu.be/ZCHHjdvWLYk

Due to inclement weather, the Viroqua Wrestling Team will NOT be traveling to Eau Claire Saturday 12/11.
12/10/21 Viroqua Area Schools will dismiss early today. 12:45-Elem, 1:00 HS/MS.


Viroqua Area Schools Advertisement for Bids: Bids for the project designated below will be received by CESA 10, on behalf of Viroqua Area Schools hereinafter referred to as Owner. Bids will be received by Tony Menard, via the Building Connected website before the time and date indicated below. Project (Bid Package):HVAC Improvement Project. Bid due date: December 17, 2021 by 2:00pm. Only those organizations who request to view the bid packages will receive a copy of the bid package documents and submittal link. To obtain a copy of the bid package documents please send an email to
bsneen@cesa10.k12.wi.us
. CESA 10 is responsible for the distribution of addenda to only those that have requested project documents from CESA 10. A Bid Security Bond of 10% will be required. Payment/Performance bonds shall be required and provided at the time of the awarded bid. The Owner reserves the right to waive irregularities and to reject any or all Bids. No Bid may be withdrawn until 30 days after the time stated for receipt of Bids. Advertisement for Public Bid Opening: Viroqua Area Schools and CESA 10 will open sealed bids for the aforementioned project via zoom meeting at 2:15 pm on December 17, 2021. This Public Bid Opening will clarify the names of the bidders. The Bid Opening will not discuss or explain the content of any offers, nor will a bid be awarded at the time of the opening. To access the bid opening teleconference, please click the link below:
https://zoom.us/j/92999414512?pwd=Q1NrRU43SG5Pa0RJR05BWThzQ1JKUT09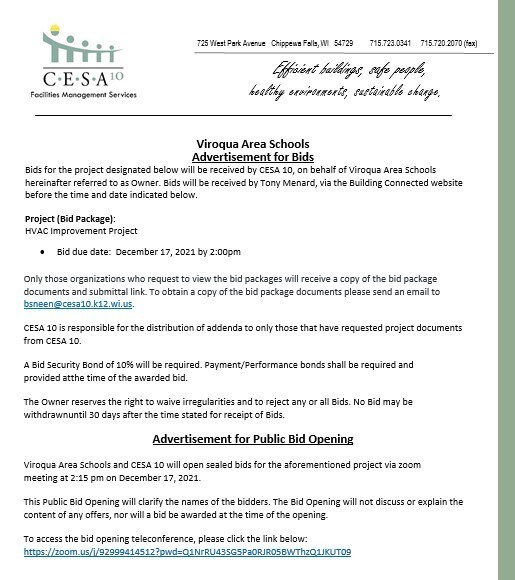 American Education Week 🖤🧡 November 15-19, 2021 Please join us in celebrating public education by recognizing and giving thanks to the teaching professionals, cooks, bus drivers, custodians, secretaries, paraprofessionals, and all others working within the education system as well as honoring the parents and guardians who support and encourage their children. We are all working together to make a difference by providing education every day, everywhere.
Thank you to all Veterans and to those who are currently serving in the military! The VHS Veterans Program will begin at 10:00 am on November 11th and may be livestreamed at this link:
https://youtu.be/cCoV8485npY